---
You're in good hands with Champion Logistics, but it feels even better to know who you're working with. Meet Tom Kendrew, founder of the first Champion Logistics franchise.
Based in Boston, Tom has spent his entire life living just north of the city. He's an avid sports fan, especially of New England teams like the Bruins, Patriots and Red Sox. Tom also enjoys riding his Harley and playing golf in the Boston area whenever the weather allows and anywhere else that has sunshine and a challenging course. Along with wife Sharon, the couple has six children from ages eight to twenty-nine.
Get to know a little bit more about Tom and how he acquired his expertise in third party logistics (3PL).
---
You've been in the 3PL industry for a long time. How did you get started?
My dad was in the transportation business. I used to hang out on the docks at the airport with him in the summer when he would go to work. I started working nights in high school, learning operations. Then when I got my license, I learned to drive forklifts and began covering for truck drivers who took vacation time in the summer. I really enjoyed working in the industry from a young age. It felt good to be 17 years old with money in my pocket. Shortly after hitting a bridge and taking the roof off a truck, I realized driving was probably not my best career choice. I transitioned into sales and then started Champion with a partner at 23.
That's a young age!
I had left another company and was interviewing with potential employers, but I felt the confidence that you only feel when you are young and don't yet have the responsibilities of owning a home and having a family. An opportunity presented itself a little earlier than I had imagined. I realized it was the perfect time to start doing something on my own. Almost thirty years later we are still going strong so I would say it worked out well.
What are some of the changes you have seen throughout the years?
Years ago there was definitely more players in the market for airfreight options - airline carriers that specialized in freight. And then FedEx and UPS came along and dominated the market.
I've also seen the industry go full circle: companies used to try to be all things to all people, then for a number of years there became a focus in specializing in one area, for example air freight or trade show services. Now there's a return to trying to offer everything. We're flexible, but I know what our strengths are and we work to those. There are some opportunities that just aren't for us and we recognize that. But what we do, we do with excellence.
Overall technology has been the biggest change industry-wide, and perhaps in business overall. In the 80's we were tracking, tracing and filling out bills of lading by hand. When I started Champion, we began by using a 286 computer and creating our own spreadsheets before we really knew what spreadsheets were. I remember a day when vendors were hesitant to buy fax machines! Now so much of our communication is automated and electronic. Sharon and I were recently joking about using pagers. Now we have virtual meetings and presentations and constant communication at our fingertips. However we do have a fax machine for sale though if anyone is interested!
Sharon is your wife and also a managing partner for the company. What's it like working together?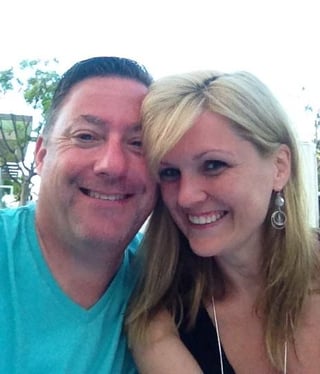 Sharon is a great partner and a great networker. She can walk into a room of people she doesn't know and head right to the center, whereas I'll hang outside on the edges until I see a friendly face. She thinks long term. I'm more short term. We have strengths that really complement each other.
I will say it can be hard to separate work from your personal life. We might be out having a drink, talking about our family and inevitably end up talking about business. She spends significant time Nashville expanding that market and focuses much of her time on marketing strategy for both locations. I work out of the Boston office and spend much of my time in client facing meetings. Sometimes the only opportunity we have to catch up on work is at home, making it even harder to separate the two.
Many times people will ask what it's like to work with your spouse and it really is a blessing. We have a respect for each other that allows us to disagree, agree or oftentimes through compromise, find an alternative idea neither of us would have come up with on our own.
What prompted your decision to expand from Boston into Nashville?
Strange combinations of locations, right? It was simply this - we saw an opportunity. Sharon is our visionary and was the driving force behind it, creating a five-year-plan to expand our services into the music industry and create a concert logistics division. Our family has always enjoyed live music events. One of our daughters was a big fan of the Jonas Brothers (don't judge). Sharon would take her to concerts and was always amazed that they sold out, even during tough economic times. We realized that the concert industry was a potential market for us. She connected with a concert promoter who allowed us to pick his brain and our team spent significant time behind the scenes learning the industry. As we gained connections and developed relationships with tour and production managers, the number one question was always "Do you have an office in Nashville?" To which we finally were able to answer "Yes!". And although we initially opened the office to focus on the music and live event industry, we quickly saw the potential to continue offering the same services that we offer in Boston, specificallly trade show logistics, retail logistics, general freight and warehousing.
Looking back, is there anything you wish you did differently?
I wish I had a mentor when I was younger to guide me and help me with some of the mistakes I made along the way. I would have liked to align myself with those who could have given me more guidance.
You're very open within your business about your Christian values. What drives that decision?
Sharon and I were both members and huge fans of C12, a Christian CEO roundtable. With open conversations and encouragement from other CEO's, I've realized that you can't just talk the talk. You also need to walk the walk. There's a certain set of core values I personally live by. I didn't want to live life differently outside of Sunday. I want my faith to be an everyday component of who I am as a person.
My faith is really a part of the fabric of our lives. We've had to feel our way around a bit as we have openly professed our faith in the business arena. While I've had some individuals openly challenge me on it's place in the business world, by sharing our faith in Jesus it has opened the door to many encouraging conversations. I have been able to pray with and for employees and clients. We have a prayer board in the breakroom that many staff members post on to request prayers for themselves and others. And one of our company benefits is our corporate chaplain, Eddy, who provides encouragement for our staff and their families, has provided hospital visits and offers counseling. Eddy comes by the office every week to visit with our team. If our employees want to take advantage of that, it's available to them. If they don't want to, that's ok too.
What are some of the ministries you've worked with?
Great question. We spent a year operating a project called Hope's Closet, a privately funded ministry serving Methuen, Massachusetts and surrounding areas. They offered new and gently used clothing for free to those in need while sharing the gospel.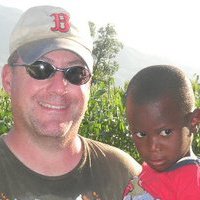 I've been to Haiti a half dozen times since the earthquake. I woke up one morning, watched the news and felt compelled to help. I have no background in medicine but I assisted on a medical mission, helping doctors and nurses with security and grunt labor. I connected with several others who I enjoyed working with and we put a team together that travels to Haiti several times per year. Through this group we have several orphanages we work with in and outside of Port au Prince. It's a ministry I could talk about all day so you'll need to stop me once I get going.
I will say that one of the advantages to being self-employed is having the freedom to make my own schedule. It allows me the privilege to give back.
Do you have an ideal gig or any memorable gigs?
We've been working on some fun events. Recently we shipped and set-up display material for a client sponsoring the 1st Day Plunge in Jamestown, RI. We've done work at the Boston Music Awards and look forward to doing that again. Our live events division has overseen the logistics for set ups at colleges such as UMass and UNH, and have had the opportunity to put some college kids to work in the process.
Several years ago we received a request to ship hundreds of pounds of raw meat to a trade show for a meat packaging client. We didn't have the ability to ship it and keep it fresh throughout the show. Ultimately they made the wise decision to use play dough instead. We've shipped and stored PT cruisers (back when they were a hot commodity), as well as truckloads of iPads, which required additional security.
It's a lot of fun to work on some events that are out of the ordinary. We don't say "no" to business off the bat, instead we say "maybe". Our team looks for new ideas and services to provide relevant solutions. We kick them around and see what's possible.
Champion stands out because we're willing to look at things that some of our competitors can't or won't do. If we can't find a solution, we can point you to someone who can.