---
THE TRUTH IS OUT THERE
The trade show world encompasses a full range of industries, ideas, and interests. No one conference or event is ever the same - which is a key in making the trade show industry so interesting!
We're back to present a few of the trade shows in our "There's A Trade Show For That???" series. If you've attended any of these shows, or have another unique show you'd like to share, we'd love to hear from you!
---
Bronycon
One of the more unique trade shows, BronyCon attracts thousands of fans of the classic television series, "My Little Pony: Friendship is Magic." Fans, referred to as "bronies", converge on the East Coast each year for a weekend of fun and frolicking (that's what ponies do, right?). Events include the formal "Grand Galloping Gala" as well as several cosplay events. While this is certainly not your average convention, BronyCon makes a huge impact for charities each year through their charity auction held on the last day of the convention.
BronyCon will return to the Baltimore Convention Center on August 1 - 4, 2019 and registration is currently open.
Alien Convention
The truth is out there, and you can find it this fall at AlienCon at the Kay Bailey Hutchins Convention Center.
Created by HISTORY®, A+E Networks®, Ancient Aliens, Cosmic-Con® and Famous Monsters of Filmland® and now in it's third year, AlienCon the first ever event of its kind. A celebration of things not of this world, both in science and in pop culture, this otherworldly trade show and convention is held annually in both Los Angeles and Dallas. Highlights of Alien Con include celebrity sightings, new video game launches, a costume party and panel discussions.
Alien Con will take place October 4th - 6th and tickets are still available. You never know who, or what, you will see there... (cue sci fi music)
WWETT Show
Here's one show the Ninja Turtles would be happy to attend.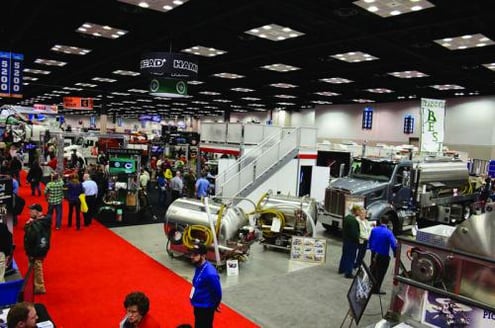 The Waste, Wastewater Equipment Treatment and Transport Show is a showcase of all things for the sewer and wastewater industry, focusing on environmental service professionals. With an estimated attendance of over 14,000 and the industry's largest show floor, attendees can expect to see some amazing machinery (fun fact - exhibitors include Amazing Machinery of TN!). With over 110 sessions, education and information is also at the forefront of this early 2019 tradeshow.
WWETT Show was held at the Indiana Convention Center this past February and will be returning to the same location in 2020.
Looking to do some of your own trade show research?
Not sure what you're shipping to your next show? Our free Dim Weight Calculator can help!
High Road provides trade show shipping services nationwide and would love to help with your next event! Contact Us here