---
Trade shows are hard...
They can also be expensive. And time consuming. And difficult to measure the return on investment. However, such a networking opportunity to meet potential partners and customers can be invaluable for your company. Unless of course, your trade show booth is a flop and you fail to attract and engage any passers by. In the world of trade shows, your booth can make or break your team.
Make the most of your next trade show by learning how to put together a successful trade show booth!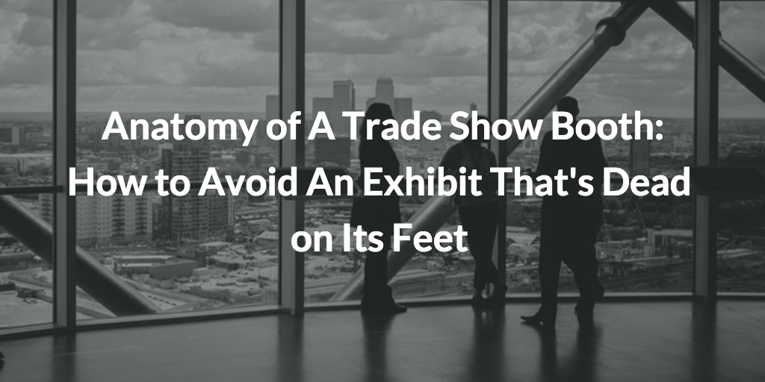 ---
Get All the Details Ahead of Time
Warning: Do NOT skip this step. Gathering the details is an essential first move before planning your trade show booth domination, so pay close attention:
Show Location - How far is the booth from your company's location? Will you need to figure out shipping and logistics to get all your booth pieces to the event?
Size of the Space - The amount of space you will have can limit what you can do with your booth. Find out what the dimensions are - you can even map out the square feet in your office building to visually decide.
Layout - Figure out where your company's booth will be located in the convention or venue space, as this will have a huge effect on what your trade show booth can look like.

Are you against a wall? - This is not necessarily a bad thing - you can turn being in the corner or against a wall into an advantage. For instance, you could use the wall to prop up part of your booth or hang a tall poster that you otherwise wouldn't have been able to use.
End of the row? - If you're on the end, you could have considerably more room than if you are squished between two other booths.
How to register everyone - Be sure that everyone who'll be helping out at the show is properly registered. Plan who will be required to be at the event and for how long to avoid having one person stuck with clean up duty at the end of a long day.
Plan the layout of your booth
Now that you've collected all the details, let's dissect the anatomy of a successful trade show exhibit.
Visuals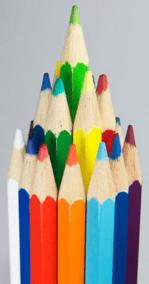 People are going to scope out different booths from afar before walking over and committing to the onslaught of a sales or company representative. This means that your booth will have to stand out. You might have your best salesperson at the booth, but that won't matter if your display isn't driving traffic their way.
Show what your company is about or highlight your newest initiative or product launch in a visual way. Make it simple for anyone walking by to strike up a conversation with you about the eye-catching display. A few ideas on what that could look like:
Life-sized cut-outs or mockups - Anything that you can blow up to be human-sized or larger is an attention grabber.
Add life with plants or water - Most trade shows are inside, so anything involving a water feature or living plants will usually stand out, or at least create a unique environment.
Lights - Can you create an orange glow around your booth? Or set the mood with some twinkle lights? Find out if you can add any lighting that completes the atmosphere of your booth.
Add height - The taller you can make your booth, the more likely people will notice it. It's also a great way to creatively make use of the space you're given.
Fun T-shirts or costumes - Think about having your employees dress in matching, colorful shirts or costumes that go with your booth's theme. Have as much fun as possible -- you love what you do, so let it show!
Need inspiration? Pinterest is a great platform to use for checking out some amazing trade show display examples.
Use Your Employees
Your employees are your biggest asset - and this definitely rings true for trade shows. The meaningful interactions between your employees at the booth and attendees are still the most important part. That being said, you should determine ahead of time what kind of interactions you want to encourage. Will you be working with customers one-on-one? If so, will you need to be near outlets for charging laptops and phones? This will also require you to have a table for attendees and employees to sit or stand around.
Create Pieces You can Reuse
It can be expensive to put together an amazing trade show exhibit - not to mention a waste of resources for a one-time event. Combat this by designing multifunctional items that the company can use at future events, or even around the office. Get creative and source ideas from others on your team.
By planning out the booth beforehand, you can leave enough time for any design, printing, and shipping that needs to get done in advance.
Solve a Problem for Attendees
Think about the immediate needs of the people you will want to talk to at the trade show. Likely, they're busy people who might have been volunteered by their boss to attend the event. Here are some ideas to get you thinking about what you can offer to draw people to your booth:
Somewhere to sit - Forget a lame bowl of candy or free pens, most of the working men and women at the show just want a place to rest their feet for a few minutes. If you have the space, create a small, cozy sitting area for attendees to rest and chat.
Phone charging station - Everyone could use a battery boost. Bonus points if you combine this with a small sitting area.
FUN - You may be there for business, but your booth doesn't have to be all business and no play. Incorporate a game into your exhibit to break the ice with attendees. Offer unique prizes to stand out from the crowd.
GET SociaL
Everyone and their mother is on some form of social media, and usually more than one channel. Use this to your advantage by building social media into your trade show exhibit experience. Below are just a few tips to scratch the surface of how you can get creative with using social media to compound your trade show efforts:
Follow and use the official trade show event hashtags in your posts - both during and leading up to the event.
Geotag your posts - This allows other local users to find and interact with your posts. You can also promote or run social ads geo-targeted for the trade show location so that attendees will see your posts and be more likely to seek out your booth.
Run a contest on social during the trade show to promote at the booth - For example, if your company focuses on Instagram, you can create a banner promoting the contest. Have attendees take a photo of your booth or with an employee and tag your company and/or use your event or company hashtag. The winning photo receives a prize sent to them after the event. This can get your brand great exposure.
Use LinkedIn - Trade show events are typically B2B, which means most companies and attendees spend time on LinkedIn. Reach out to your connections to invite them to the trade show - you can send them a personalized direct message. Be sure to connect with any new people you meet at your booth on LinkedIn.
THERE YOU HAVE IT
Hopefully these trade show booth tips shed some light on how you can rock your next trade show display. Now go take what you've learned and build the perfect trade show exhibit!
---