3 Trade Shows That Will Tickle Your Taste Buds
As part of our new blog series - There's a Trade Show for That??? - we thought it would be fun to dive into the delicious, healthy (or not so healthy) world of the food and snack shows!
A 2014 U.S. consumer spending analysis recognized that the food industry raked in almost one and one-half trillion dollars - that's a one and a five followed by a dozen zeroes - among individuals, businesses, and government entities. Figures like these make it seem obvious that the food industry would have several expos available across the country to attend and exhibit at, right? So let's take a peek at some of the country's hottest, newest, and fastest growing food expos in the nation!
Just don't us blame if you start craving a Snicker's bar.
International Pizza Expo
According to the USDA, nearly 40 cents per dollar spent in 2014 went to food purchased at restaurants, pizza shops, and burger joints nationwide, so it's not surprising that we came across a show specifically targeting one of the country's favorite fast food industries –
pizza!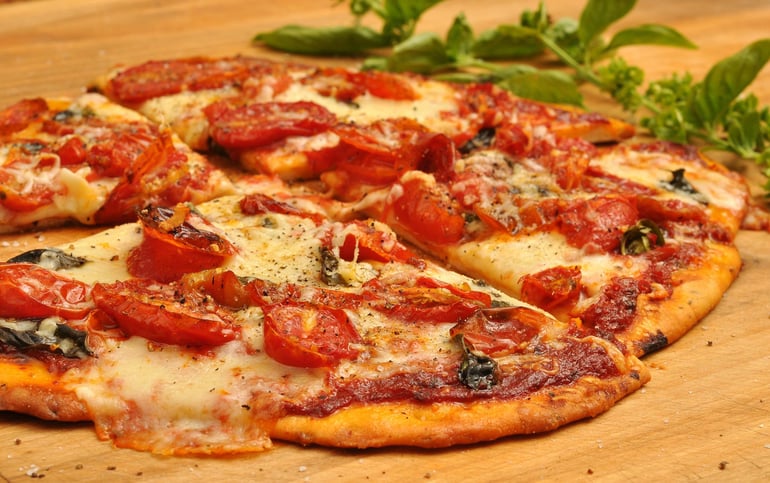 The
International Pizza Expo
is one of the largest pizza shows in the world, with over 500 exhibitors showcasing the most innovative products and services in the industry. Attendees from around the globe flock to the Las Vegas Convention Center to learn modern techniques to open, grow, or improve their pizza businesses. Although the annual conference is not open to the general public, pizzeria restaurant owners and managers, distributors, and food brokers can significantly benefit from attending the three-day event which includes over 90 seminars, baking demonstrations, networking events, and even skill competitions (hey paisan, it's more than just tossing pizzas!).
To learn more about the International Pizza Expo or to register for the next year, which is scheduled for March 27-30, 2017, visit their website,
www.pizzaexpo.com
.
VIVA Fresh Produce Expo
If you are more into watching your waistline, or simply love working in the fresh produce industry, then the
VIVA Fresh Produce Expo
is the place to be. This regional event replaces the former Texas Produce Convention and is a fairly new event having been around for only two years. It offers dozens of networking and education events, including seminars, keynote speakers, golf tournaments (with awards!), and luncheons.
The VIVA Fresh Produce Expo takes health and wellness with a 5k Fun Run and 1k Wellness Walk event. They're not just talking the talk, they're walking the walk!
You can learn more about the VIVA Fresh Produce Expo by visiting
www.vivafreshexpo.com
. Be sure to subscribe to their newsletter to stay up-to-date on when to register for next year, which is scheduled for April 20th - 22nx at the Hilton Austin & Convention Center in Austin, Texas
Sweets & Snacks Expo
Quite possibly the sweetest place on earth, the
Sweets & Snacks Expo
is right up your snacking aisle if you are in the sugary, salty, sweet – and yummy – industry. With over
FOUR ACRES
of candy and snack products on display by exhibitors around the world, it just might be the biggest snack food exhibition in the world!
Every year, over 16,000 industry professionals and over 750 companies exhibit at the Sweets and Snacks Expo. The exhibition has earned significant media attention, has been recognized as one of the top 250 trade show events as well as landed in the top 50 as one of the fastest-growing trade shows in the industry. Attending or exhibiting at the event means you will be able to mingle, connect, and network with some of the largest and up-and-coming snack food companies in the world. Companies such as Almond Brothers (not to be mistaken for the Allman Brothers), Boyer's Candy Company, Inc., Clear Bags, Frito-Lay, and Dippin' Dots (and, really, who doesn't love Dippin' Dots?) frequently exhibit and attend.
We're still on a candy high from last month's show in Chicago but it's never too early to start planning for next year. Learn more about Sweets and Snacks by visiting
www.sweetsandsnacks.com
.
So there you have it! Three of the most delicious, sweet, satisfying tradeshows on Earth – or at least in the U.S.
If pizza, veggies and snacks aren't quite your thing (um, what???), check out our super duper check list for move out - maybe this might be more up your alley (hmm... wonder if there's a bowling show???). And as always, let us know if we can help with your tradeshow planning!
Oh hey, did you miss our last post in this series? Not to worry, you can catch up by clicking here -
Unique Trade Shows