7 Family Friendly Music Festivals You Should Know
We are huge fans of the music industry here at Champion Logistics. While our concert logistics department gets to have all the fun working with tour trucking and festival logistics, every staff member has their own personal favorite style of music. From country to hip hop, contemporary Christian to alternative, just walk from department to department or office to office and you'll be sure to hear a wide range of tunes. This love of music has inspired us to share with you some of the top Family Friendly Music Festivals across the country that we are going to, have gone to, are moving freight into and out of or are hoping someone invites us to!
Here's a list of 7 of our Favorite Family Friendly Music Festivals happening this Spring through Fall.
August is the perfect time to get the family together for some live music entertainment, fun outdoor activities, and sitting around the campfire laughing and telling stories – and no one understands this better than the great folks at LockN' Music Festival. Held in the captivatingly beautiful mountains of the Blue Ridge Mountains, LockN' shares their passion for the music industry with the people of the community. The festival draws audiences from the Arrington region, as well as those living in Washington, D.C., Charlottesville, Lynchburg, and Richmond, Virginia. If you have the opportunity to check out the LockN' Music Festival this August, you can expect to hear performances by artists like Brandi Carlile, Tedeschi Trucks Band, Keller's Grateful Gospel and headlining this year's event, Phish. The family-friendly event is set to take place August 25 through 28. Tickets to the event are available online and by the way, children 12 and under are FREE!
Camping, parking, hotel, and shuttle passes are also available.
Located near the beautifully scenic Copper Mountains of Joshua Tree, California, on the Joshua Tree Lake Campground, thousands of music lovers across the country flock to this little niche of Heaven to enjoy unique, live music performances and outdoor activities. The Joshua Tree Music Festival is unlike any festival we've ever seen – incorporating the rejuvenating effects of Yoga instruction and classes with
the new styles of music performances you've likely never heard before.
Joshua Tree Music Festival hosts two unique festivals every year: one in the Spring and another in Fall. Each event features different musical artists to appeal to the varying musical tastes of their audience. Their 2016 Spring festival event is set to take place from May 12 through 15, with line-ups like The Main Squeeze, Hamsa Lila and Little Hurricane. If you can't make it to their Spring event, rest assured. Their Fall event is set to take place October 6th through the 9th at the same scenic location. Tickets are reasonably priced and children are always welcome (the 10 and unders are free).
If you're in New York this June and love country music (and who doesn't!), be sure to grab tickets to the Taste of Country Music Festival. This amazing event is held annually with a full lineup of well-known country music artists. This year's festival, scheduled to take place between June 10th and 12th will feature big name artists like Kid Rock, Big & Rich, Logan Brill and as part of his summer music tour, Kenny Chesney. A Taste of Country Music Festival draws an impressive crowd. Fans often drive hundreds of miles to see their favorite country music artists perform live at this event. Tickets to the Taste of Country Music
Festival tickets can be purchased online; camping and lodging access is also available.
Offering a V.I.T. ticket (Very Important Trailers) to "Trailer Trash and High Class" alike, pack up the trailer, the kids and whatever else you need to enjoy this two day festival in Pueblo, Colorado. With live music from a variety of artists, tasty treats, and relaxing by the campfire, the fifth-annual Bands In The Backyard Music Festival is sure to be a family favorite! For two days, June 17 and 18, you will enjoy music from artists like 3 Doors Down, Matt Gary, Sarah Ross, Alabama, and Joe Diffie. Bands In The Backyard provides several campsite locations on the premises to enhance visitor enjoyment and encourage family togetherness. Additional information about this year's event, lineup,
camping and events, as well as sponsorship information and ticket purchases are currently available online.
Are you looking for something fun to do within the next few weeks? Then hurry over to the Beale Street Music Festival website and purchase your tickets to attend the energetic event. This festival is a three-day event with four stages pumping out a variety of music all day long. One of Memphis'largest music festival events, the Beale Street festival is set to start on Friday, April 29 and keep the music going through Sunday, May 1. Featured artists for this year's event include Neil Young & Promise of the Real, Beck, Paul Simon, and Weezer. Attending the 40th annual event is the perfect family-fun activity, attracting over a million music fans across the country.
Looking for a mix of history, culture, music, and fun this Fall? Back again after it's 2015 inaugural event, the Pilgrimage Music & Cultural Festival in Franklin, TN should be high on your list of must-do-and-see this year. The two-day event is scheduled for September 24 and 25 this year. Their artist lineup has yet to be announced, but in previous years, they've featured dozens of well-known singer/songwriters like Sheryl Crow and Willie Nelson as well as artists like Madisen Ward and the Mama Bear, KingFish, The Grand Southern, and Chris Stapleton. VIP and general audience tickets and parking passes can be purchased through the Pilgrimage website as well as information and updates regarding the event, lineup, and lodging are also available. Families and children of all ages are welcome!
Pilgrimage is a non-profit 501(c)3 event with a passion to share the history and culture of the Franklin area with the members of the community and audience through the power of great music.
And our Number 1 Favorite Music Festival of 2016:
One of our favorite New England Music Events - we can't say enough about how much we love the inspirational, life-changing music event known as SoulFest! From great music performed on five different stages to their dedication and passion to change the world through the love of God. Their main stage features many popular contemporary Christian music artists, but the festival really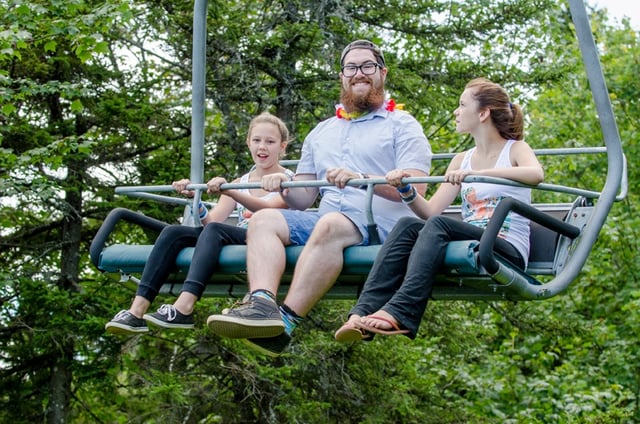 appeals to a wider variety of music fans – with artists from an eclectic array of genres like folk, Americana, alternative, and hip hop. In addition to the amazing variety of musical performances, audiences from all over flock to New England's largest Christian music festival to enjoy the inspirational events – with one of the festival's
most inspirational attraction being the True Love Wall, a wall dedicated to helping the audience give back to their peers and the community in small ways.
On average, SoulFest entertains at least 10,000 visitors every year! Tickets are currently on sale for the three-day festival event, scheduled to take place from August 4th to 6th in the breathtakingly beautiful venue of the Gunstock Mountain Resort in Gilford, New Hampshire. For an in-depth article on the "Soul behind Soulfest", check out our recent blog post of the same name -
The Soul Behind Soulfest
So what Music Festival will your family be attending this year? Share your comments below or by tweeting us @ChampionLogstics!
And for more awesomeness delivered right to your inbox (don't worry, you can totally customize what you get and when you get it) click on the link below -