Awesome Christmas Tours 2018
Tis the season... well, almost!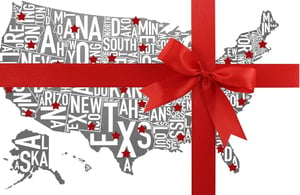 It's been a busy year of touring - we've enjoyed being on the road and providing tour trucking for several of our regular touring artists, including Blues Traveler and Matt Maher, and have had the privilege of touring with some new clients, such as Gavin DeGraw, Kaleo, Rainbow Kitten Surprise, H.E.R. and AJR. As we go headlong into December, the upcoming Christmas season is shaping up to be an exciting end to a fantastic year.
Speaking of Christmas, I'd like to introduce you to two incredible bands we are proud to work with, and send a shout out to the tour managers who put their heart into making the shows come together like a Christmas miracle. Launching their Christmas tours in the coming weeks, Home Free and Sidewalk Prophets know how to bring the Christmas spirit to life.
Be sure to give them some social love and head out to see them in a town near you.
Home Free | A Country Christmas
Our favorite a capella vocal band is bringing the Christmas spirit far and wide in the coming months. While this is the final tour of the year for Home Free, fans will be happy to know that the Timeless World Tour 2019 dates have already been announced. Tickets sure do make a great Christmas gift (hint, hint!)

Click here for tour info, tickets and social media info
Sidewalk Prophets | The Great Big Family Christmas
"There is not a better time of year then Christmas and there is nothing more special than creating Christmas memories with the ones you love, and that is the driving force behind this tour. Our hope is that at the end of the night each person that came to the show leaves with a smile on their face and a heart that is full of holiday joy that will last a lifetime." - Dave Frey
If you're looking to immerse yourself in that Christmas spirit, nothing will do it more than an evening with the Christian Contemporary band, Sidewalk Prophets. Inspiring music combined with Christmas favorites make this a show the entire family will love.

And a few of other festive Christmas tours -
Nothing says Christmas like Hallmark Channel - especially when they are sponsoring Trans-Siberian Orchestra's Ghost of Christmas Eve tour. It's the ultimate Christmas event!
Deck the halls with John Legend next month as he brings his Legendary Christmas tour to a limited number of cities this holiday season.
The first ever Roadshow Christmas Tour is featuring many Contemporary Christian Artists, such as Matt Maher, Matthew West, Plumb, Building 429 and more.
What kind of Christmas music frosts your cookies? Comment below or tag us on social media with #frostmycookies
Hope you have an opportunity to catch a show or two in the coming months! Spot one of our drivers or trucks on tour? Snap a pic, post it on social and be sure to use the hashtag #takethehighroad