New England's Largest Christian Music Festival... Soul behind Soulfest
An Interview with Vanessa Ayerman & Joel Strycharz of SoulFest
If you're a big fan of Christian contemporary music then I'm sure you've heard of SoulFest. SoulFest is the largest Christian music festival in New England, filled with food, fun, and loads of great live music. Champion Logistics is a proud Ministry Partner of the SoulFest festival as the event's official freight carrier since 2014.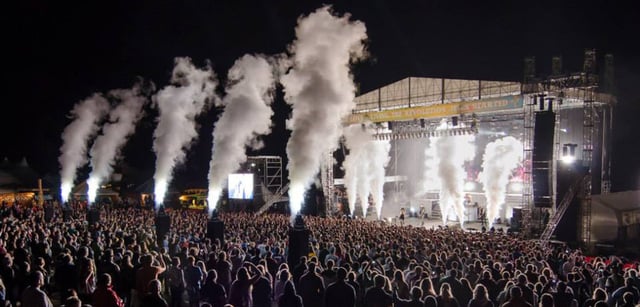 I thought it would be interesting to interview a few people that help make this event such a major success, so I recently reached out to Vanessa Ayerman and Joel Strycharz of SoulFest and asked them a few questions. I've learned a great deal from this interview, and I'm sure you will enjoy learning more about the event!
So, without further ado, let's dive into the conversation that I had with Vanessa and Joel.
What Is SoulFest?
SoulFest is New England's Premier Christian music festival held annually at the beautiful Gunstock Mountain Resort in Gilford, NH. SoulFest 2016, taking place this August 4th-6th, will be year number 19! SoulFest 19 will feature world renown artists and speakers on five separate stages over three days - it's truly a life changing event.
SoulFest is not only a great time of fellowship and music at a beautiful, breathtaking location, it is a time to heal and renew.
What inspired you to host such a large event for the community?
SoulFest co-founder, Dan Russell, has been involved in the music industry for years. SoulFest was a response to observations both in and out of the church; a need to help people truly grasp the love of God for themselves and to help motivate believers to take care of the poor and voiceless.
What message do you hope the community learns about SoulFest and your cause?
It comes back to our mission: to encourage believers to be risk-taking followers of Christ. To live the revolution Jesus started under our own roofs, in our own neighborhoods, in our communities. To stand up for those who can't stand up for themselves. To surrender our lack of trust in God and allow TRUE LOVE to transform us so that we can live selflessly, from the inside out, loving whoever crosses our path, helping whoever is in need. Be the Good news.
Overall, SoulFest is quickly summed up in our tagline: "MUSIC. LOVE. ACTION." We're so much more than music, but we gather around this inspiring music to focus on God's great love, the one TRUE LOVE, if you will. And that love compels us towards action that shares that love with those that need it most.
Is SoulFest for adults only or are children also allowed to attend?
I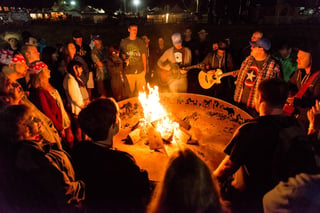 t's an all ages event. We have Word of Life Fellowship leading a children's ministry, hosting an activity zone with inflatables and games for kids, youth, and adults. They also have a tent for youth leaders to find resources and encouragement. Plus, there are all kinds of onsite activities: kayaking, paddleboats, segway tours, a zipline. We really do have an all ages demographic.
According to your website, most of the music performed at the event is within the Contemporary Christian genre. Do you also allow other artists in other genres to perform as well, for instance: Alternative, Metal, Hip Hop, etc?
Absolutely! SoulFest has a little something for everyone. Our main stage (the Revival Stage) has a lot of contemporary Christian music "CCM"; the music most often played on christian radio stations. However, we have five stages total that include a lot of singer-songwriters, folk, americana, alternative, hip hop, nu metal, etc. As one scrolls down the line up on our website, they'll see acts like Skillet, P.O.D., Lacey Sturm, Project 86, Propaganda, Beautiful Eulogy, Manafest, and more.
Can you give us a sneak-peek into some other artist names that will be performing at this year's event?
We just interviewed Paul Colman, a SoulFest staple, known for his time in the Paul Colman Trio, the Newsboys and as a producer involved with a lot of up-and-coming Christian artists. You can see his take on the festival, parenting, and a new album here. Plus, there are so many other acts coming to this year's SoulFest with new albums out; Switchfoot, Michael W. Smith, Brady Toops… Natalie Grant's new album is getting some time on the charts. Matthew West is currently at #1 for "Grace wins"; Big Daddy Weave, Building 429, and Colton Dixon are all in the Christian Billboard's top 25 - which means you get to see your favorite artists play those songs stuck in your head, live. It also means that this is your chance to see new material played live in New England. We don't have the opportunity to see these bands as often as other parts of the country.
Other than the live music events, are there any other kind of events that happen at SoulFest?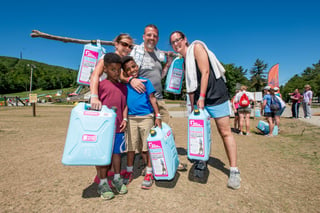 At SoulFest we have a couple of annual activities - some are educational and others are charitable. The two that come to mind are the Walk4Water and the Suicide Prevention Panel. We want our audience of compassionate people to be challenged and equipped to help solve some of the largest issues in our area and abroad out of love for God, neighbor, and self. As a result of some of these great activities, workshops, and engagement times on stage, the SoulFest family has been able to give in many great ways. For instance, we have donated over $200,000 to local and global charities and ministries since its inception.
In the past 5 years, we have partnered with organizations to impact various needs in the U.S. and abroad. SoulFest attendees have sponsored 600 children and two villages through Compassion International and ChildVoice International. The SoulFest family has also raised more than $15,000 for wells and clean water projects which contributed to creating new water wells and maintaining existing ones in numerous third world countries. Additionally, we have raised over $10,000 to assist in disaster relief efforts in Haiti, post earthquake and another $10,000 was given to assist with medical costs for local low income families.
The SoulFest family has also filled numerous Salvation Army trucks during the annual clothing drive. We have also helped the ONE Campaign pass the Electrify Africa Act through Senate with thousands of signatures. It is now moving on to the House.
Let's talk numbers for a minute. How many visitors do you typically receive at the annual event? Is it just a local event or do you have visitors from around the country attend?
We have at least 10,000 daily attendees, plus all the volunteers, ministry partners, vendors, staff - it's a pretty good time! Because there are christian music festivals all over the nation, the majority of our attendees are based out of the northeast, but we have attendees from Florida, California, and last year from South America and Scandinavia. SoulFest is unique among our genre of festivals because of the platform given to a wide variety of life changing ministries, organizations, and speakers throughout the whole event as a central focus and a true mountain-top experience based on our location.
With so many people in attendance, are there hotels nearby for attendees and visitors to stay in or can they "camp out" on the festival grounds?
Yes and yes. We've got a long list of accommodations, which can be found on our website. We also have onsite camping, organized by Gunstock Mountain Resort, as well as area campgrounds and lodging.
If I wanted to attend this year's annual SoulFest festival, how could i contact you for more information about the event? Would I need to make a reservation or could I just show up?
SoulFest is a ticketed event. You save by purchasing in advance, whether you can attend only one day or all three. You can organize a group of 10 or more people and save even more! Being that we're an outdoor festival, we won't really sell out, so you can purchase tickets at the gate as well. However, if you'd like to upgrade your festival experience with any VIP options like onstage seating or a meet & greet, it's necessary to purchase in advance because the upgrades do have caps on availability. You can purchase tickets via our website or give us a call. We'll be happy to answer any questions you may have and take your order over the phone!
What type of vendors could new attendees expect to see at this year's event?
Clothing and accessories; delicious festival food - coffee, ice cream, pizza, hamburgers, ethnic food, health food… the list is very different every year with many fabulous repeat vendors. Colleges and universities, charitable organizations, activists, faith-based ministries and organizations, and radio stations are also vendors at the SoulFest festivals.
If a company is interested in becoming a vendor at this year's festival, how could they reach you? How far in advance would they need to book their vendor spot?
We're accepting vendors and exhibitors now. The most concise way to answer is to say call or check out our website's Become A Vendor page. Prices increase as we get closer to the festival. We also try to ensure that we don't oversaturate any type of vendor category, so it's better to apply early to get a spot at the fest.
What about sponsors? Can you share with us who's sponsoring the event this year?
We look at sponsorships as partnering with SoulFest - providing programming, support, etc. That's why we refer to these folks as Ministry Partners: Champion Logistics, Compassion International, Salvation Army, Thrivent Financial, Word of Life, and a couple colleges are in the works.
What type of benefits do companies receive for sponsoring the event and how could they contact you for more information about sponsoring SoulFest in future years?
Depending on the nature of sponsorship, there are a couple benefits:
Great exposure on-site and year-round

- video walls, banners, booth space, workshop opportunities, eblasts, social networks, promotion at our concert series, etc.

VIP packages

- includes backstage meet and greets, enjoying catering with the artists, press pit passes, premium seating at the mix position (the spot with the best sound).
Some sponsorships come in the way of a great experience for supporting the event. The VIP packages are a great way to sponsor the event and have a great time supporting a great cause.
Do you have any memorable stories you could share with our readers? Perhaps something inspiring that happened during one of the festival events?
I think Loren & Amanda Decker say it best in their short video on our YouTube channel about the True Love Exchange. We have this wall at the festival where you can list items, services - anything you need really - up on the wall in search of help. People can offer you their abundance by reading those lists and connecting with the folks that have a need - simple and great stories. Pastor Loren is going to speak at SoulFest this year too, telling stories about the amazing things that have happened at the Cross on SoulFest grounds. A place where people can lay down their burdens and find hope. Very cool!
Thank you Vanessa and Joel for sharing the SoulFest story with me! SoulFest sounds like a truly amazing, inspiring, and love-filled event that I'm sure our readers would love to attend!
To learn more about the SoulFest festival, check out their website at www.thesoulfest.com.
Stay up-to-date on amazing news, stories, and events happening with SoulFest by following them on these social media platforms:
Facebook: Twitter & Instagram: @thesoulfest
Tumblr: www.thesoulfest.tumblr.com
Pinterest: www.pinterest.com/soulfest
YouTube: www.youtube.com/user/TheSoulFestNetwork
Looking for more New England Music Events? Check out this blog post with some of the best music venues in New England:
Unique New England Music Venues
And for even more information on Soulfest, download the SoulFest Fast Facts pdf by clicking on the photo!