Slam Dunk Tips for Shipping Athletic Equipment
---
Spring is for Sports
For anyone in the sports industry, Spring can be an exciting time - March Madness, the start of baseball season, soccer, and lacrosse...It's a great time to get out and play or watch a sporting event. But what if you're in charge of organizing and coordinating for a venue, event, or team?
If you have to move a truckload of sporting goods, or a few large and heavy pieces of athletic equipment, you'll need to search for solutions outside of the regular courier service.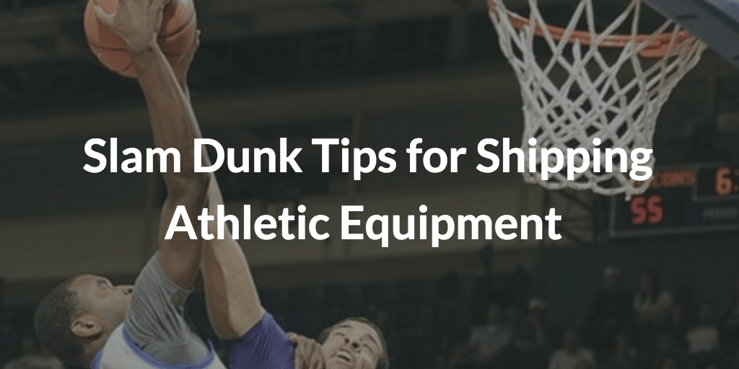 With just wrong move, your athletic equipment could arrive damaged, late to the event, or not even show up at all. Get out your coaching clipboard and take note of these tips to prevent a fumble while shipping athletic equipment:
Add Some Time to the Game Clock
Most likely, you need the sporting equipment to arrive in time for an event or game. Prevent your items from arriving late by building enough of a buffer into the delivery time for any unloading and setup. Pay attention to the drop-off window to ensure that you'll have plenty of time to unpack and set up, even if the truck arrives at the end of that window.
Find a Team Player
Don't hire a freight company that will arrive at the event with all your equipment, dump it off at the parking lot, and leave. If you need assistance unpacking, moving, and setting up items, find a company that will go the extra mile. This will make the traveling experience much less stressful, and improve the human experience of your specific circumstance. Ask your freight company if they will be able to help pack the equipment into the truck.
Buckle fragile equipment down for the long haul
Your sporting goods will likely be traveling a good distance. If there is any special equipment that is fragile or expensive, be sure to pack it down with care. Loose space will allow items to jostle or even break during transport. Be sure to add padding between fragile pieces. This is one huge reason to always use a trusted distributor to get everything safely to your event.
Do you need insurance?
The pounds and pounds of equipment you're moving probably carry a good amount of value for the organization. Talk to your freight provider to see what type of insurance they would recommend. Usually, the option is between full or basic coverage from an insurance provider.
Decide What Players Should Bring with them
If you're looking to ship on behalf of a large sports team, a late arrival of necessary items can make you ineligible to play in the game or tournament. Some items, like uniforms and helmets for a football team, are absolutely necessary. Have players pack those key items with them on the plane or bus to mitigate your risk. Even if for some reason the shipment never arrives or is late, you can still play the game.
Anything that the players might need immediately after getting off the bus, whether they're going to the hotel or to a quick practice, should be in their carry on bag as well. Additional second and third luggage bags can be packed with the rest of the team equipment in the truck. This can save around $100 per person on baggage fees if you're flying.
On another note, the coaching staff needs to decide what not to bring. You might have to be choosy about how many ice bath tubs or what practice equipment you take based on what will fit in the truck.
OFF THE BACKBOARD
If you've had a bad shipping experience in the past, it's time to take these tips and step up for the rebound. Shipping your athletic equipment shouldn't be challenging. Go for the slam dunk this season!
---