Concert Tour Driver
What is the life of a tour driver like?
James DeLuca joined our team in 2016 and has quickly become a favorite with the artists and staff he tours with. We caught up with him recently while on tour with Sidewalk Prophets. Here are a few highlights from our conversation and his perspective about tour trucking and all things concert logistics.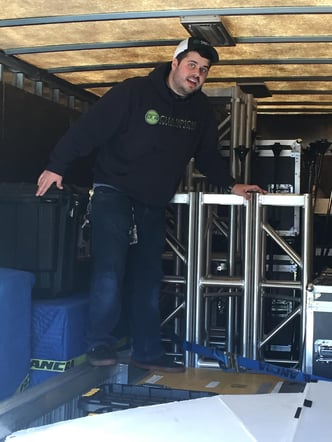 James, thanks so much for taking some time off to share your experiences with us. We know life on the road can be busy. What is a typical day like for you?
A typical day for me usually includes working with and leading the team for load in at the venue first thing in the morning. Once that's done I head to a hotel for a day of sleep and arrive back shortly before the the concert ends. Load out takes about 2 hours and once we ensure the freight is secured, I head out to drive through the night.
Do you get to see any sites while you are on the road?
Yes! The great thing is when the band has a day off, I get a day off too. Recently I spent the day with the band and we all got to see a few sites. I was able visit Wrigley Field, as well as the Mall of America, all the while getting to know the crew and the band better.
That sounds like fun! Must make the work days go by faster too. What's your favorite part of being on tour?
My favorite part of the tour has to be the relationships that you build with both the crew and the band, from the tour manager right through to the volunteers. I like knowing that what I am doing is instrumental to help their ministry and the success of the tour. Also, as a driver, I am not just going along for the ride. It is definitely a family. I really enjoy set up, tear down and working with the crew on anything that helps make the show a success.
What's your least favorite part?
My least favorite part would only be the fact that I am on a different schedule than the rest of the team, with the exception of the bus driver. While everyone else is sleeping, we're driving. While we are sleeping, they are setting up and rehearsing.
Sounds challenging - but could be worse. At least you aren't sleeping while you're driving, right?
I don't think anyone would appreciate that!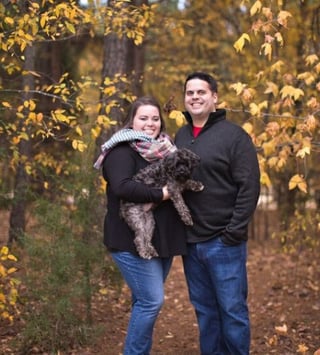 Speaking of challenging, must be difficult being away from family and home. What do you do to stay in touch?
My wife and I talk every single day, as well as send each other pictures of everything that we are doing and people that we see. While we have different careers, she is also involved in the music industry so we enjoy sharing our unique experiences with each other.
What do you like to do in your free time, when you are not on tour?
When not on tour, I fully enjoy spending time with my wife, our dog and going on rides on my motorcycle.
Sounds like you know how to have fun! Can you share a fun adventure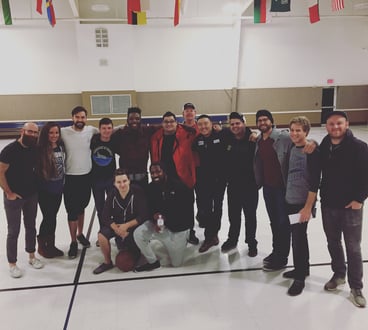 you've had on the road? Or an interesting story you can share?

While we were in Chicago, we went to see the infamous Wrigley Field just after the Cubs won the world series. It was an absolute madhouse but the band and the crew got to know each other better and learned things about each other we would have never known!
What is the one place you haven't been while on tour, but you'd like to go to?
I wish I was able to go back up to the northeast where I grew up and see the sights! Also, I wouldn't mind some west coast weather!
James, it has been a pleasure getting to know you better. Thank you so much for sharing some details of your life and experiences on the road!
James ended 2016 on tour with Grammy nominee Andra Day and is looking forward to rejoining Sidewalk Prophets late January for their 2017 Prodigal Tour. We are thrilled to have James as part of the team here at Champion / High Road.
Have an upcoming tour? We'd be remiss not to mention our online quote page -
And for a complete overview of all the services we provide, please visit our home page HERE